Product Variants and more
---
Do you have a grip on the diversity of your products, or do the product variants take control of you?
You are not on your own, if the latter is true. Many organizations are in a similar situation – often because market forces pressure businesses to constantly expand their product portfolios. While being in "good company", you should definitely not lean back and relax.
Managing Product Diversity
Literature, research and management consultancies deal with diversity of product variants, but unfortunately the focus is typically not on design and development – even though this is where you would have the biggest lever. Solutions that simplify the generation of additional variants are certainly of help, but existing challenges are mainly shifted to downstream areas (and neglected), unless you have the right foundation: a suitable approach to structure your products and to model the required set of rules.
So how would you rate your approach to managing product diversity?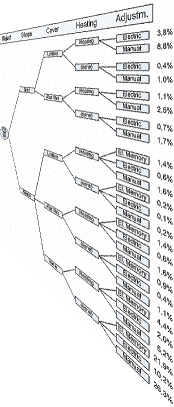 Product Structuring
Doing a good job in product structuring primarily requires a bill of material (BOM) type matching your needs. There are various relations between items (assemblies or single parts) in a BOM, as well as between these items and describing documents (such as requirements, specifications, drawings, CAD models, wiring diagrams, software modules, assembly instructions, test reports, and manuals).
Several BOM types are available: explicit BOM, BOM with common parts, Plus/Minus BOM, Matrix BOM and various kinds of rule-based bills of material.
Having chosen the right BOM type for your organization, another question needs to be answered: what is the best approach to organize your products? More precisely one could ask: which 'Depth' (number of levels in the BOM) and which 'Width' (number of parts within an assembly) would comply with a typical product structure and on which level would you allocate configurable items?
Specific influencing factors can be crucial to your organization. These include:
Supply chain strategy (build-to-stock respectively make-to-forecast, assemble-to-order, engineer-to-order)
Number of product families
Typical number of variants for a given product family
Ability to configure a product: amount of options; applying a closed (limited) or an open (unlimited) configuration process
Conditions in production and assembly
Limitation of fixed capital
Targeted delivery time
It is easy to get lost in the multitude of aspects that have to be considered. Which approaches are promising? What is the state of the technology? What are best practices?
Lost in Rules?
Especially for assemble-to-order products you need a set of rules defining if and how the available options (choices) can be combined.
Defining the required configuration rules (constraints) without getting lost in the resulting complexity is a big challenge. In practice it is often the case that, unfortunately, only a few experts define the set of rules according to the specifications of the faculties – and thereby hopefully make only a few errors in the interpretation of the input or in the implementation of the rules themselves.
Validating the resulting set of rules regarding consistency and completeness, may appear unthinkable. Instead, a high (manual) test effort is conducted, followed by the paradigm 'never change a running system'.
That there are way better approaches is something customers learned from ZAGEL Consulting!
First-Hand Consulting Services
---
ZAGEL Consulting can help you in this complex environment with extensive experience, applying the VarLogic® method which has proven successful in practice.
Note: Individual consulting services also means not imposing any solutions upon you. Sound solutions which are already in-place and you are happy with will not be questioned provided, of course, they satisfy identified requirements.